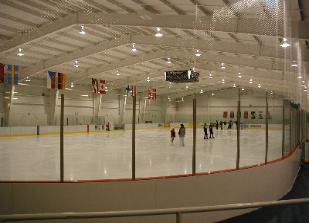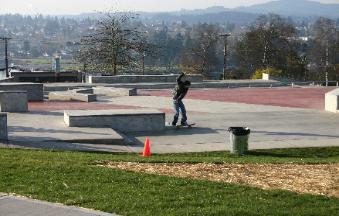 Bremerton Skate Park
Bremerton, Kitsap Co. WA

A 10,000 sq. ft. skate park was added to East
Park in Bremerton, next to the Bremerton Ice
Arena, also designed by MYCO. The "street
style" skate park is one of the only parks of its
kind in the country. MYCO worked directly with
area teen skateboarders to develop the design
of the park.

Size: 10,000 square feet
Contractor: Purkiss-Rose, rsi

Bremerton Ice Arena
Bremerton, Kitsap Co. WA

Selecting a site was a long time in coming
for Kitsap County's much anticipated ice
rink. Since MYCO was selected as the
project architect we had worked on three
different sites and designed as many
buildings. Finally construction broke
ground at Eastpark in the Manette
neighborhood of Bremerton.
The Ice Arena is an exciting year-round
facility that uses several energy-efficient
design features very important for keeping
ice. The facility design includes a
regulation National Hockey League-sized
ice sheet, four team rooms, food court,
generous lobby with concessions, video
game room and sports shop as well as
conference and special events rooms.

Size: 39,565 square feet
Contractor: The Wootan Group

Testimonial from Greg Meakin, Developer of the Ice
Arena & Fitness Facility
: "
I'm confident in my
research and the incredible talent on my team of
specialists. Just one example is my architects, Miles
Yanick & Company of Bainbridge Island. I was pleased
to find a local architect, rather than an out-of-state
one. Indeed, even a super human, out-of-state
architect could never have accomplised so much, so
fast and of such high quality work than Miles Yanick &
Company."

Miles Yanick & Company

Architecture Land Planning Interiors Landscape Design

18955 Anderson Parkway NE, Suite 231 PO Box 2553 Poulsbo, WA 98370
Phone: 206-842-6516 Email:
office@milesyanick.com

This file is not intended to be viewed directly using a web browser. To create a viewable file, use the Preview in Browser or Publish to Aabaco Web Hosting commands from within SiteBuilder.