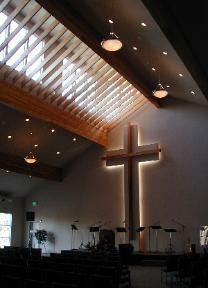 Testimonial from Rich Crain, Church Elder
:

"Miles--I just wanted to tell you how pleased and excited I am with our new facility. One major difference
between engineers and architects (which applies to me) is that while we can recognize beauty, we don't
visualize it well. When you showed us your plans and model back in 2001 you told us the back lit cross
and open rafters would look great. I thought it might be true, but I'd have to wait and see. What you
have given us is an impressive, distinctive sanctuary that greatly exceeds my expectations. The
glue-lams and open rafters seem to make the whole room bigger than it is. And the cross is beyond
description. The primary response of many of us that first morning was speechless joy with almost
overwhelming emotion.
God has done a great work through you. Thanks for using your gifts to design a facility that will be
practical for ministry and a beautiful place to worship."

Olympic Evangelical Free Church


Jonah's whale and the New Testament figure in the design of this
church. It's a subtle realization that comes to you after a while in the
church sanctuary. We created a radiant and enveloping space for
the small North Kitsap congregation by seeking inspiration from
biblical references. Twenty-seven windows fill the north wall which
symbolize the 27 books of the New Testament. Soaring above the
sanctuary are exposed beams silhouetted against clerestory
windows suggesting the ribs of Jonah's whale. A simple 20-foot
cross is back lit by a window that shines daylight into the sanctuary.
At night, the back lit cross illuminates into the dark and can be seen
by passers-by. Designing a spiritual space like this church is very
rewarding for MYCO because it gives us an opportunity to fully
realize the potential beauty and grace of architecture in expressing
the aspirations of the congregates.


Size:

8,688 square feet



Contractor: Drury Construction & Swanberg Construction

Miles Yanick & Company

Architecture Land Planning Interiors Landscape Design

18955 Anderson Parkway NE, Suite 231 PO Box 2553 Poulsbo, WA 98370
Phone: 206-842-6516 Email:
office@milesyanick.com

This file is not intended to be viewed directly using a web browser. To create a viewable file, use the Preview in Browser or Publish to Aabaco Web Hosting commands from within SiteBuilder.