Bainbridge Island Remodel, Kitsap Co. WA

Retaining the history and architectural integrity was foremost in the minds of the owners of
this 1904 Port Blakely mill worker's house on Bainbridge Island. They had hoped to remodel
and add to the 900 square foot home to look and feel as though the addition had always
been there, resting gracefully on the crest of their property under the shade of a protective
conifer tree. Our plan was carefully calculated to create an additional 1400 square feet of
space that related to the original scale of the diminutive home and reflected its hand built,
turn-of-the-century style. What has evolved is a cozy, irresistible home brimming with
character and warmth at every turn. The new addition takes the form that mirrors the original
structure juxtaposed to the original house. The twin structural forms are connected by the
living room. The addition contains a recreation room, master bedroom suite and home
office. The tiny, existing kitchen and main entry became the new entrance. By moving the
kitchen next to the dining room, we had the opportunity to create an open flow between the
two spaces. The kitchen holds special claim on the charm of this restored home. It's small
footprint functions well with furniture-like cabinetry, apron-front sink, cozy window seat and
reproduction lighting. We maintained the hand-built tradition by using design elements of
the period including a painted, stenciled floor and leaded glass panels over the cooking
island, both custom crafted by local artisans. The original, 99-year old Douglas fir boards
that wrapped the interior walls and ceiling of the house were completely refinished.
Architectural restoration required skill, diligence and patience on the part of owners,
architects and craftsmen. We were very fortunate to work with a client who had a special
connection to the house and local history. The project was a great success in large part to
their commitment.


S

ize

1

,400 additional square feet



Contractor: Various contractors worked on this project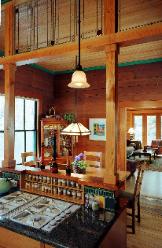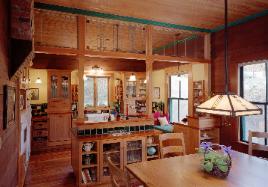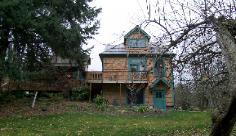 Miles Yanick & Company

Architecture Land Planning Interiors Landscape Design

18955 Anderson Parkway NE, Suite 231 PO Box 2553 Poulsbo, WA 98370
Phone: 206-842-6516 Email:
office@milesyanick.com

This file is not intended to be viewed directly using a web browser. To create a viewable file, use the Preview in Browser or Publish to Aabaco Web Hosting commands from within SiteBuilder.