Bainbridge Island Residence, Kitsap Co. WA

Creating a lofty perch on a 40 degree sloped lot above Bainbridge Island's Manzanita Bay, this
high-style home achieves a spacious beauty among its surrounding firs.
Part of the house is cantilevered over the slope, being supported by sculptural knee braces.
On approach you see the house massing with three cedar faced boxes, the central box rising
a story above the flanking pair. An arc of glass around the entrance gives the feeling of
importance and sophistication. The open interior floats natural light throughout from four
skylights. The vast array of windows in addition to a two-story window-wall in the stairwell
streams light into the first and second floors.
The overall design results in a sophisticated sense of space and light in the midst of the tall
firs which gives this house a sense of style and comfort.


Size:

3

,600

square feet



Contractor: Blumenthal Construction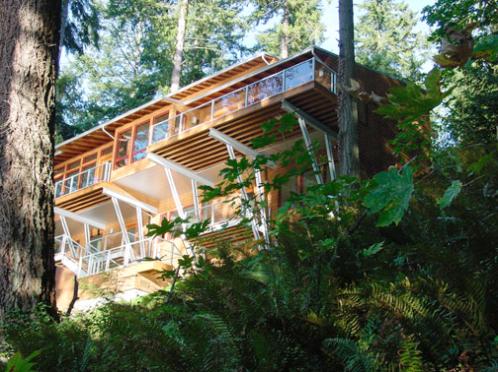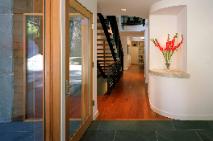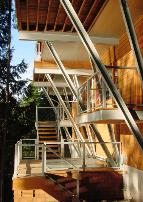 Photos: Art Grice

Miles Yanick & Company

Architecture Land Planning Interiors Landscape Design

18955 Anderson Parkway NE, Suite 231 PO Box 2553 Poulsbo, WA 98370
Phone: 206-842-6516 Email:
office@milesyanick.com

This file is not intended to be viewed directly using a web browser. To create a viewable file, use the Preview in Browser or Publish to Aabaco Web Hosting commands from within SiteBuilder.